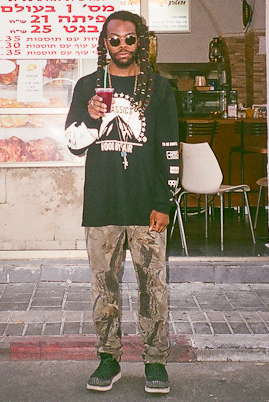 I Think You're Swell is a New York-based online "diary of life" magazine founded by Antwan Duncan in 2007. ITYS features original photography, videos, travel, guides, personal stories, interviews, funny stuff, etc and provides press coverage on a variety of art, fashion, music and culture events in New York City and abroad.
Antwan Duncan, Founder & Creative Director
Antwan Duncan is a Savannah born, Texas raised, photojournalist based in New York City.
He is available for assignment and travel, international or domestic.
Publications
Interview Magazine
The New York Times 'T' Magazine
BULLETT
SPIN
Zink
BlackBook
Inked Magazine
The L Magazine
Art in America
find me
Stephanie Malik, Editor-in-Chief

Originally from Zionsville, Indiana, Stephanie escaped from the land of boundless cornfields long ago by way of Oberlin College and is now a London UK based writer and producer.
Stephanie joined ITYS in the summer of 2010 while living in NYC. Since finishing her master's degree in philosophy at Oxford in 2011, Stephanie continues to focus primarily on fashion + music journalism, and increasingly in film and music video production. Her work has been published internationally– both digitally and in print– and has been translated into more than 7 languages.
Stephanie is also in the final editing stages of a short book she has been commissioned to write on the Canadian musician Grimes by the independent London publishing house Precinct. The book is scheduled for release in late 2013.
She is available for assignment and travel, international or domestic.
Publications
VICE
VICE Australia/NZ
VICE Brazil
VICE Germany
BULLETT
Dazed Digital
i-D
Exposition Magazine
En Vie Fashion
IDOL Magazine
find me
Email: stephanielmalik@gmail.com
Facebook
Twitter
Instagram
Tumblr
Last.fm
Photo Courtesy of WWD