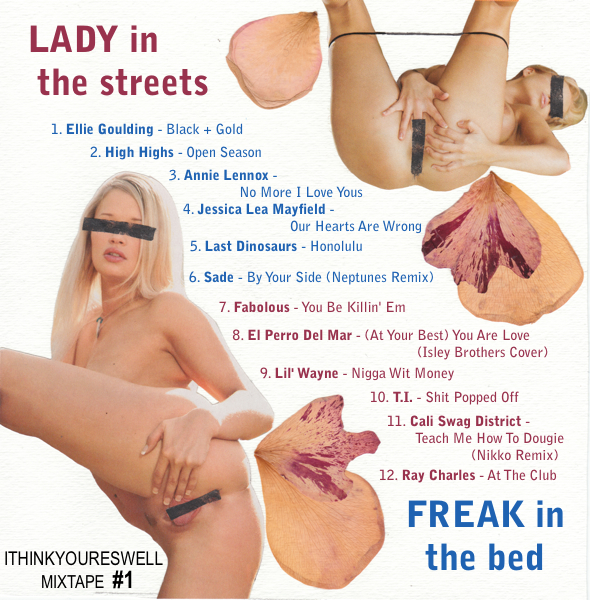 [click the cover to download] or click HERE or HERE or HERE.

Introducing…the ITHINKYOURESWELL MIXTAPE vol. 1
So yeah guys, we made a mixtape. NO, there is no actual mixing or scratching of songs on this mixtape, we don't have that kinda time, we are busy as hell eating good food and taking pictures and sh*t. This is a "mix" of music you can get down to, have sex wit cha ol' lady or dude too, you can dance to it, or you can wash dishes and clean ya house to it. The mix is "da bomb" and not just we say so — it just is. REAL TALK. Be sure to check out the Annie Lennox track, it's the song Nicki Minaj sampled for her single "Your Love" and it's great!
The cover art was done by Elizabeth Cohen, some of may know her, some of you may not, she's the girlfriend of Jason from Cerebral Ballzy and she's also my roommate. I love that naked chicks and flower petals are her medium for art, too good and too appropriate.
Below is the track listing:
LADY IN THE STREETS
1. Ellie Goulding – Black + Gold
2. High Highs – Open Season
3. Annie Lennox – No More I Love Yous
4. Jessica Lea Mayfield – Our Hearts Are Wrong
5. Last Dinosaurs – Honolulu
6. Sade – By Your Side
FREAK IN THE BED
7. Fabolous – You Be Killin' Em
8. El Perro Del Mar – (At Your Best) You Are Love (Isley Brothers cover)
9. Lil' Wayne – Nigga Wit Money
10. T.I. – Shit Popped Off
11. Cali Swag District – Teach Me How To Dougie (Nikko Remix)
12. Ray Charles – At The Club
and if you missed it above, click HERE to download.
-Antwan and Chris.