Written by: Elena Parasco
On Sunday October 2nd, I finally went to see what was going on at "Occupy Wall St". Listening to the radio while working in artists studios during the week barely informed me on what was really going on, and word of mouth stories from friends who ventured to the large protest or "occupation" the past few nights didn't suffice either. And so, Sunday afternoon, I went with my friend Amit Greenberg, to see the happening.
As I approached Liberty Street and entered the cemented domain completely occupied by zealous protesters, my senses were instantly set into a frenzy. People were everywhere. Signs, made resourcefully, were everywhere. On the back of pizza boxes, strolls of white paper, shirts, faces, any kind of platform that could take the written word. Powerful statements, statistics, comments, beliefs, facts, were worn by the protesters; threads to the large crowd that occupied Wall St. These protesters were of the now generation, of an older generation, free spirits, the spirited, student activist-types, people who traveled over thirty hours to join the crowd, foreigners, and even famous actors that tried to hide their face but contribute their presence (cough, Dan Humphries from Gossip Girl).
There were signs made by teachers, expressing how fucked the school system is. Posters about concrete ideas on how to better utilize government spending. Assertions about how Obama isn't doing what he said he would do. Stabs at the men in suits, making their money and turning a blind eye to the corruption that they know is going on, but wont bother to take a stand against. Proactive gestures relaying messages like "YOU CAN THINK FOR YOURSELF, SO DO IT", "WE ARE THE ONES WE HAVE BEEN WAITING FOR", and, "WE ARE HERE TO PROTECT YOUR FUTURE".
But most of all, a universal understanding and exhortation, which held an undeniable presence in the muggy atmosphere amidst the large throng of the fervent, a shared reaction, commentary, and general upheaval regarding the universal frustration for the blatant need for change. Moreover, how so little is being done about the need for change by the people currently in power. Everyone at that sit-in, occupation, protest, wants change. And everyone there knows America is heading in a direction that won't benefit the many. And so, the frustration, the anger, the hope, the despair, the want for a better America, the kind our founders intended on creating, is more or less – in my opinion– why all of these people have gathered in the rain and dipping temperatures to the famous fiscal street in downtown New York.
As I wended through the crowd, snapping photos, reading signs, where a handful of them included altruistic and catchy -isms, I found myself being drawn to the animate drum circle toward the back of the overflowing square. The drum circle supplied a rhythmic sense of gathering, passion, and urgency. About 7-10 musicians made up the drum circle, and instruments being played included: Congo drums, trumpet, saxophone, bell horn, and other miscellaneous noisemakers.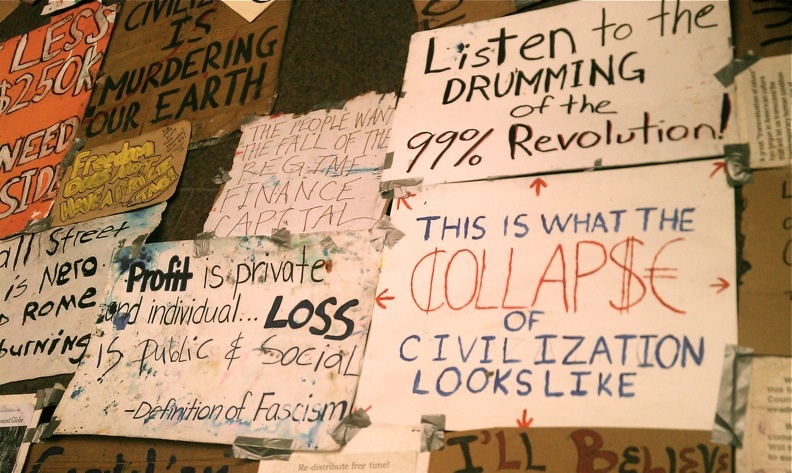 As I moved to find a spot to better hear and experience the music, I overheard a cop comment on the percussive event, "What has music got anything to do with protesting?" Overhearing this I couldn't help but think, "How doesn't it have to do with protesting?" To pass the time, to instate a sense of community, to allow a free flowing release of frustration, to get people on the same beat and page, these are just a few reasons why music, and a drum circle, is sort of a natural occurrence that surfaces during protests and in particular "Occupy Wall St".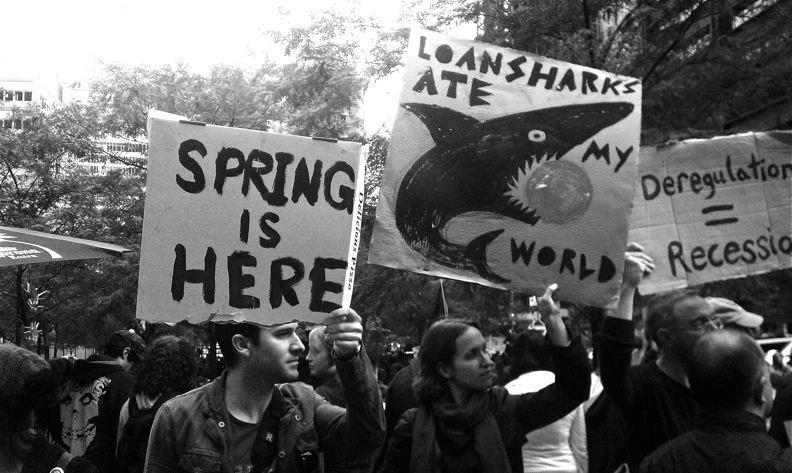 Shouted epigrams and echoed plights by the rowdy crowd — although this day was apparently the most "calm" day so far- I started to take in the last inhales of the protestation.
I soaked up the concocted elements of fascination and excitement that were electrified by the drum circle, put down my phone that I was taking videos with, and flirted with the idea of leaving. The rain had been pouring on us for a few hours, and I was freezing. But we both wanted to contribute a bit more before leaving such an intense happening. So I took a last glance at all the truisms and vivified dictums chaotically displaced through the air, and swayed to the warming beat of the drums. As I turned back around Amit guided my attention to his now-empty water bottle, and dreaming of it soon becoming a noisemaker, he gnomically asked, "Got any cents?".