It's me again y'all. I vaguely recall making an introduction a while back, but instead of digging it up again: Luvina, 24, American Expat living in Paris. I'll be writing about Paris things for the most part, but also some politics and whatever the hell else I feel like talking about. Onward?
Around mid-August to early September, Paris empties of natives and is instead packed with tourists. Corner stores, boutiques and even bakeries shut down as everyone heads out of town for three or four weeks of vacation. My usual hangs outs are suddenly filled with groups of Italians in matching red hats and loud American families looking for the Eiffel Tower (hint: it's that big pointy thing in the sky, right there.)
I don't mind the excuse to become a hermit/blog a lot. but the Ms. Havisham thing gets old pretty quickly and so eventually I'm compelled to leave my cramped studio. Below you'll find my three favorite fall hideouts–dimly lit, discreet and ideal for hermits who want to… herm someplace other than home.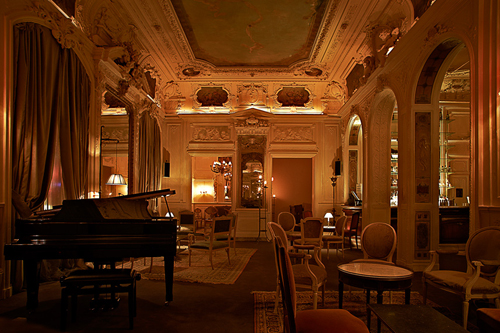 1. Le Carmen
All French revival everything. Like if Marie Antoinette owned a cocktail bar. A giant gilded birdcage, tall marble columns, a shit ton of ornate molding. Perfect place to stretch out on a chaise, sip an overpriced drink and think about how cool you are. The crowd isn't overly friendly, but they aren't assholes either. You can go to dance or just to be left alone.
When to go: After midnight, closer to 1am is best
What to drink: Jameson black barrel reserve, on ice
I want to start this one out by lamenting about the lack of Taco Bells in France. I've heard French people state, several dozen times, that Mexican food "isn't food." But this was over a year ago when all I had sampled was a burrito made by an ambiguously foreign guy–he put carrots in my salsa. (To whom it may concern: Basmati rice with yellow food coloring isn't yellow rice). But earlier this year the first Chiptole opened, along with a few other Mexican food options, and suddenly everyone is all about burritos. But as any Californian will tell you, not all Mexican food is created equal. Which brings me to Candelaria.
Candelaria is a taqueria and a cocktail bar. When you first enter the cramped space, you're met with a single table and a long, usually full bar in front of the grill. It's narrow and cramped, but it smells like heaven. The menu is small, only four or five items (including a goat cheese tostada, oh my god) and a few beers and sodas (they have Jarritos!). Once you're finished eating, you can head through a nearly hidden back door and have a drink in the atmospheric, warmly lit back room. The staff is super friendly and also very attentive for Paris.
When to go: before 7pm if you're looking to have dinner; after that it can get crowded. If you're only going for a drink, between 7pm and 2am, the earlier the better.
What to drink: The entire cocktail list is great. My favorite is The Velvet beat (spice rum, house made falernum, lime and peppered sugar)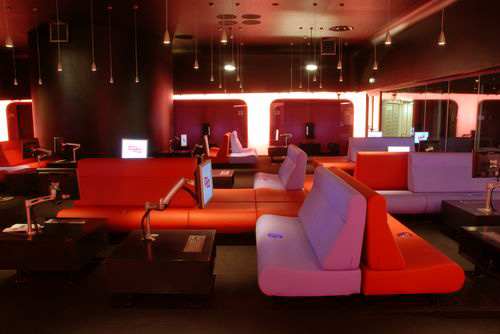 Parisians love Cinéma. They love making films, talking about film, seeing films and other people who love films. There are theaters all around the city and for about 20 euros (25 USD) a month you can see unlimited movies at any UGC or MK2 in Paris. Hear that? For the price of two movies in the US, you can see as many films as you like.
But in the event that you'd rather not be surrounded by crowds going to see Iron Man 7, there's always the Forum Des Images. The price is 5 euros for one film and 9 if you'd like to stay for the entire night's program. You can watch any of the four films offered each day in a small screening room. Or you can browse their collection of some 7,000 films, (dating back to the late 1800′s and all of which are related to Paris in some way) by yourself in the collections room. They also host film festivals, including an LGBT film festival in October.
When to go: Around 7:30 if you'd like to watch a screening, as early as 1pm if you just want to browse the collection or watch something in private
What to drink: coffee or tea, they have a natural food cafe on the mezzanine
xx Luvina