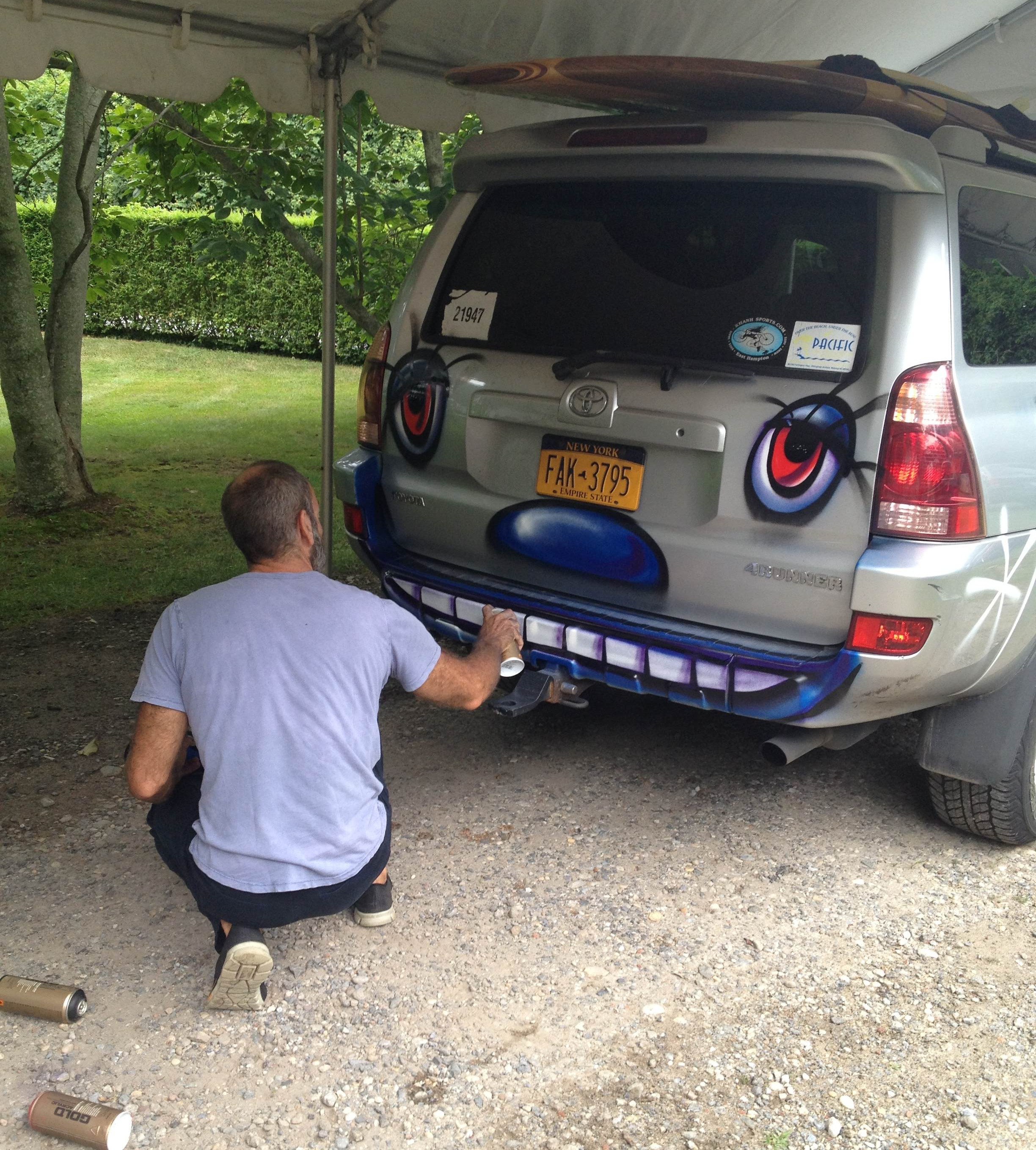 On Friday, July 26th AMPR sent a small coterie of underpaid and presumably underfed freelance journalists to the affluent terrain known as East Hampton to attend the opening of "AMERIKULTURE," a joint exhibition between former Club 57 regulars Kenny Scharf and deceased photographer Tseng Kwong Chi. The day was marked by a juxtaposition of bohemian creative energy and 1% gaudiness as I Think You're Swell and the crew of scribes lingered around the lush summer compound of Eric Firestone with the family of Scharf and Kwong Chi, as well as Firestone's eponymous gallery where the opening was held. Rosé was abundant, as were Hampton vacationers such as Cindy Sherman, Calvin Klein and Paul McMullan, who floated around shaking the hands of artists they've interacted with since the 1980s.
"AMERIKULTURE" was nostalgically celebratory, as the gallery was split in two with one section full of Scharf's newer canvases and sculptures, and the other section dedicated to the photographs of the late Kwong Chi in what felt like a mini retrospective. Though many of Scharf's friends and the collaborators are no longer living to see the Brooklyn-based artist's new work, the gallery was set up like a timeline of Sharf's career: one section nodding to his early days with the pioneers of the East Village art scene, while the other pointed to the continuing legacy of the Club 57 crew held strong by Scharf. His galactic, future-themed images only heightened the sense of the art's enduring timelessness.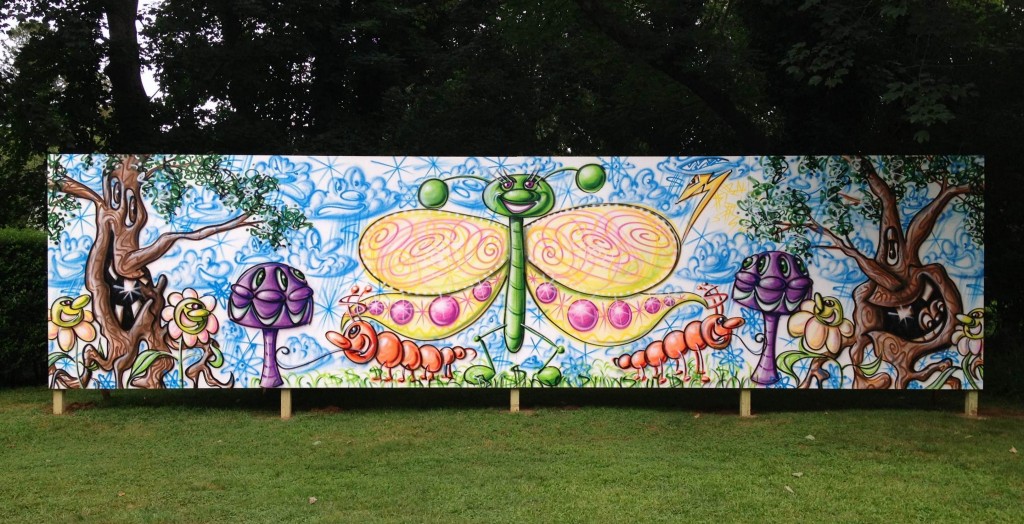 Scharf has had a long-winded career that began in the 80s after he graduated from SVA and began to collaborate with the downtown Manhattan scene of Studio 54 and Mary Boone regulars, including Jean-Michel Basquiat, Andy Warhol, the aforementioned Tseng Kwong Chi, and former roommate Keith Herring. He was featured in the 1985 Whitney Biennial after his self-described "Pop Surrealist" style garnered attention in DIY shows and on the streets of New York where Scharf incessantly tagged cosmic aliens and cartoon characters injected with bright neon and glittering spray paint. Similar to Ron English, Scharf morphs and molds advert and American pop culture tropes such as characters from The Jetsons, donuts, hotdogs and laundry detergent into something we could describe as Scharfian.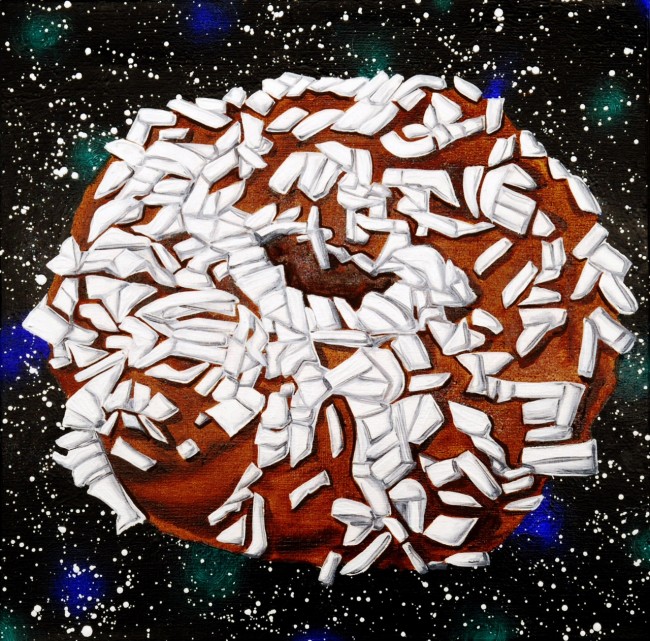 Scharf's career is currently at an all-time high with shows around the world, including recent ones at the Miami Center for the Fine Arts, The Hole NYC, Monterrey Museum of Contemporary Art. He also has a growing litany of personal projects such as the now-defunct "Cosmic Cavern" dayglo parties in his Brooklyn basement, commissioned murals such as the traffic-friendly wall on Bowery and Houston, and his more recent car-tagging project in which he will spray paint strangers' whips for free. Call it a surrealist's Pimp My Ride. Scharf was even featured as a character on The Simpsons alongside English, Shephard Fairey and Robbie Conal in a graffiti-themed episode called "Exit Through The Kwik-E-Mart." Pretty meta if you think about it – a cartoon-focused artist appearing on a cartoon television show.
Scharf spoke to I Think You're Swell about how he was recently arrested, his frustration that all conversations about art relate to money (which was a tad ironic, seeing how his least expensive painting at the gallery was $75,000), and why he won't paint the cronut.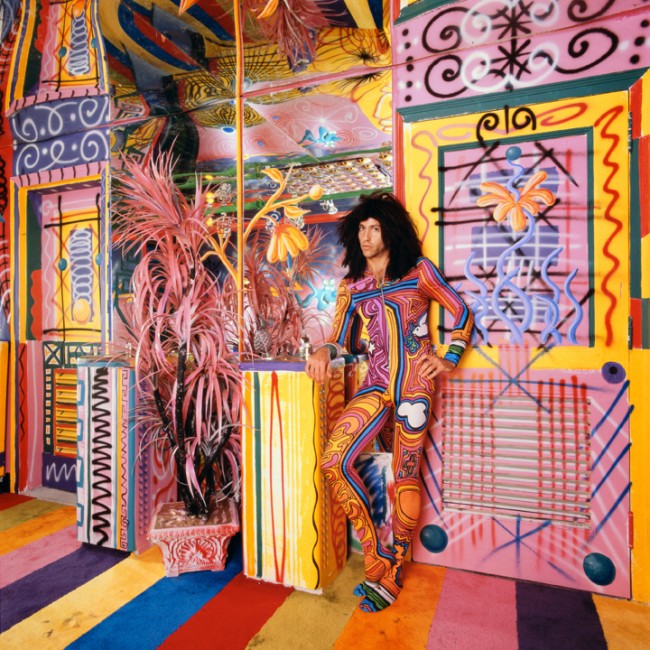 So the name of your show is AMERIKULTURE – how did you decide on that name?
Kenny Scharf: I don't know, Eric Firestone asked me what I should title it and I just came up with it. I thought about some of the images in the show and the fact that the show is here in the Hamptons, which for me is essential east coast, summertime New England. Some of the images like donuts and others are American culture-related. And the "K" is for me. I make up a language.
What about when you're titling your pieces? Do you think about it in advanced?
Kenny Scharf: I hardly think about anything in advanced. I usually just make it up on the spot. Everything.
Some pieces in this gallery feel like a continuation of your earlier work. Do you ever think of your art as separate styles or stages when you're making something new, or is it all one continuation of some idea?
Kenny Scharf: Sometimes. Usually if I'm having a big show somewhere, I'm going to focus on this for the show, some statement. But usually I have all these different styles and it's almost like when I was a kid there were 13 channels and we had a remote control and would switch channels. I could watch one show, then switch during the commercial, and then I wouldn't watch that show for 10 years but later go back to it. I have different styles for painting or making art and I can go back and forth like switching a channel. My art sometimes has that kind of attention span.
You have a lot of canvas pieces in Eric's gallery, but I know you still work heavily with street art. What attracts you to this ephemeral, short lifespan art form?
Kenny Scharf: There are so many exciting things about spray painting. It's fast. You can run out in the street and do something, and it may take you 30 seconds. If it gets painted over it's no big deal. That's part of the magic.
When something gets painted over or re-tagged by an amateur artist does that hurt a little bit?
Kenny Scharf: Sure it does, but that's the game. You have to be willing to accept those things.
What about documenting this transient art form?
Kenny Scharf: Well documenting is getting easier and easier. Back in the old days I wish I took pictures but I didn't. I have a couple but nothing really. Now it's like everyone has a phone and there's no reason not to document your work. I was recently arrested for tagging, and I want to kill the photographer that was with me when I got thrown in jail! He was with me and didn't take a picture when I was put in handcuffs. He ran away and didn't take a goddamn picture.
Tell us more about that.
Kenny Scharf: I'm embarrassed by the fact that I got caught. I got caught because I wasn't alone. When I am alone I don't get caught. I assumed the photographer with me was watching my back but he wasn't. After all that he didn't even get a picture and he was there to do a documentary. He's an idiot and a wuss and he better not show his face or I'll strangle him. I'm still friends with him on Instagram, though! [laughs]
Can you tell us about your tagging process?
Kenny Scharf: Lately the reason I've been tagging is if I've been working on a mural somewhere then I have all this spray paint with me. I ride my bike everywhere and at the end of the night the streets are empty. I have certain routes from my house in Brooklyn to Manhattan. Usually I go downtown. It's fun and friendly to see my own stuff on the way. I'm also familiar with the walls and knowing what's a good spot and things like that. Sometimes I might feel like tagging and just going indiscriminately. When I was younger in the early 80s it was more like me and my friends scoping out walls and things. I had a studio at PS1 and lived in the East Village. I would ride my bike at four in the morning and hit all down my route. It has to do with my route and riding my bike. Biking is good for that because not only can you stop, do it, and keep going, but you can go down the wrong way on a one way street so a car can't get you.
Can you tell us about your car project from the past few months?
Kenny Scharf: That has been very fun and crazy. The whole thing evolved very organically. I was painting a mural for I show I have right now in Mobile Alabama and a friend of a friend wanted to meet me. She had a car and asked if I could paint her car. I was already painting the mural and she asked if I could do something similar. I then did two or three cars afterwards in Alabama. I got back to Brooklyn and put a picture up on Instagram that said if you bring me your car then I will paint it. Then all of a sudden I started getting request to tag people's cars. I don't charge and it was really crazy because you do one person's car and put it online then it starts to snowball. Then the car gets seen somewhere and so on and so forth. I found out that this is a great way to meet people and getting your art out. It's like having murals running all over the place. It's a great connection. So then I went to LA and the same thing happened. Really random strangers come into your life then they go on their way and we have connected and my art has made an impact on their lives – they won't forget that!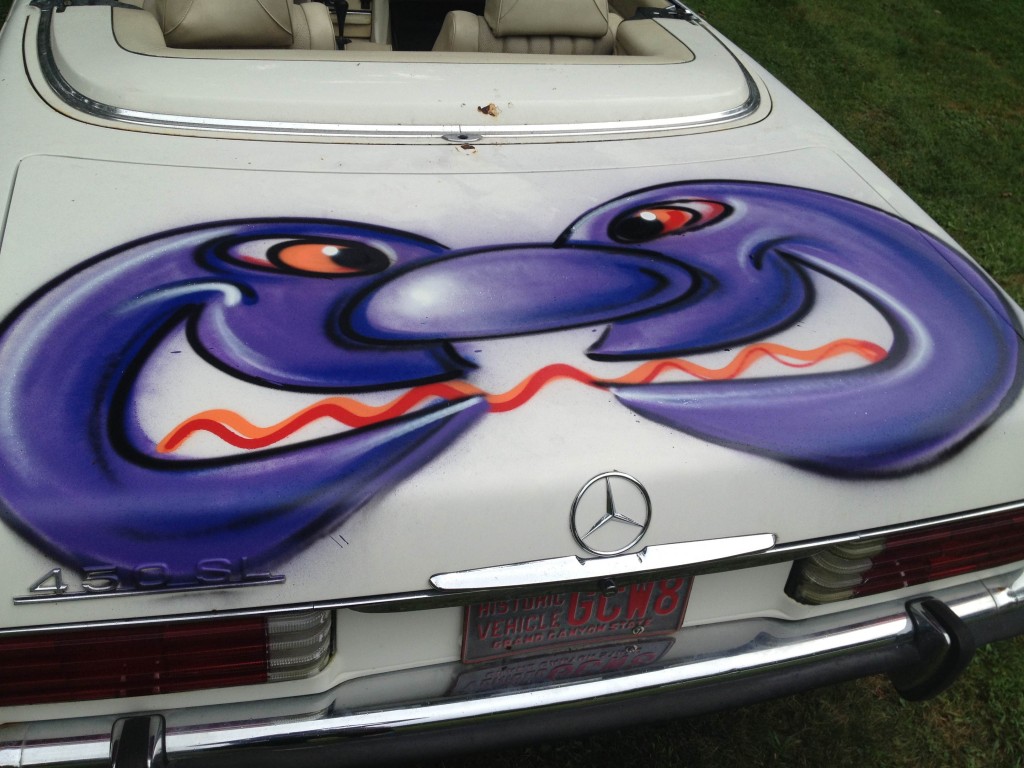 I tell people that I want to do a book of all the people with their cars and maybe some stories or comments a year later. I had this other great idea to do a drive-in. A west coast drive-in with a parking lot full of the cars I've painted and we'll do a big party.
The car painting is free and that's part of this whole thing. As much as I believe that art should have a value and there's an art market that I'm part of that's important for the art business, I find that the art world has been steadily going into art discussion only about money. That really bothers me. I find that painting random things such as cars is a great way to do art in a powerful way that is not about money at all. I can't imagine that these people would break a door off and sell it. You know what, if they're going to do that then all the power to them.
There's so much focus on money and no one talks about art anymore. That's so depressing as an artist. You feel like a racehorse and a number and you're not. I didn't want to be an artist to become rich, not that rich is bad. Rich is great. I'd love to be rich. You can do a lot of things with money, but that was not my intention. That didn't make me do what I do and that's what bothers me when the focus becomes about money instead of art. With the auction houses and the art fairs, things are going increasing towards money and I want to bring the focus back to art.
Do you think more artists will follow your lead and offer some type of free public service?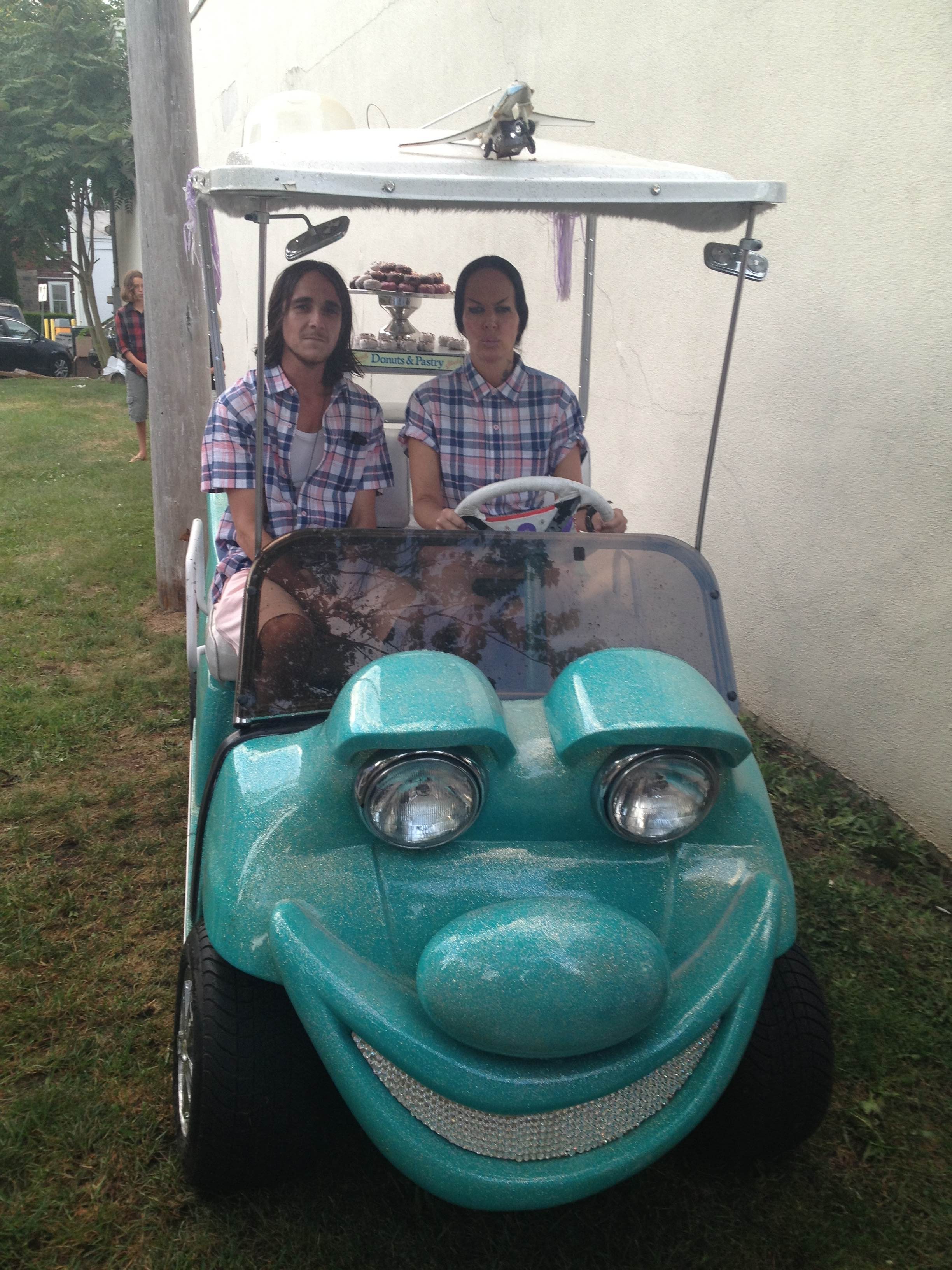 Kenny Scharf: There are a lot of artists who do free public services. All the street artists, for example. I think it is happening on different levels. I don't see interest in it from the press. The press isn't talking about the art anymore. I want people to look and talk about the art because that's what it's all about. Keith Herring did the Pop Shop. You may not be able to pay for his work, but you can get a T-Shirt. I believe in that. Merchandising had a bad name in the 80s. It was selling out. Selling trinkets looked bad. Now artists who do merchandising are really cool. The press did not look at The Pop Shop and Scharf Shack in any way. It looked like we were selling out. I see that changing.
How many cars have you painted now?
Kenny Scharf: A couple dozen, I'd say. I have a whole bunch lined up in LA next month and Miami. These are all people who've contacted me via Facebook or Instagram.
When did your connection to social media start?
Kenny Scharf: I have been using Facebook for a while to get my stuff out there, but using art as a tool is something new. It wasn't a plan, it just evolved. It hit me, this is really cool and exciting and I want to keep doing this. It doesn't take long but it's hard. You're putting yourself out there and can't make a mistake because it's someone's car! You can't make a mistake or paint over anything. You can't do that so it's a little scary.
You always include allusions to The Flinstones and Jetsons, but are there any modern cartoons that you're interested in.
Kenny Scharf: I was on The Simpsons! There was a graffiti episode and they included me spray painting with two hands.
Did it look like you?
Kenny Scharf: It looked like The Simpsons. [laughs]
Would you call your art nostalgic?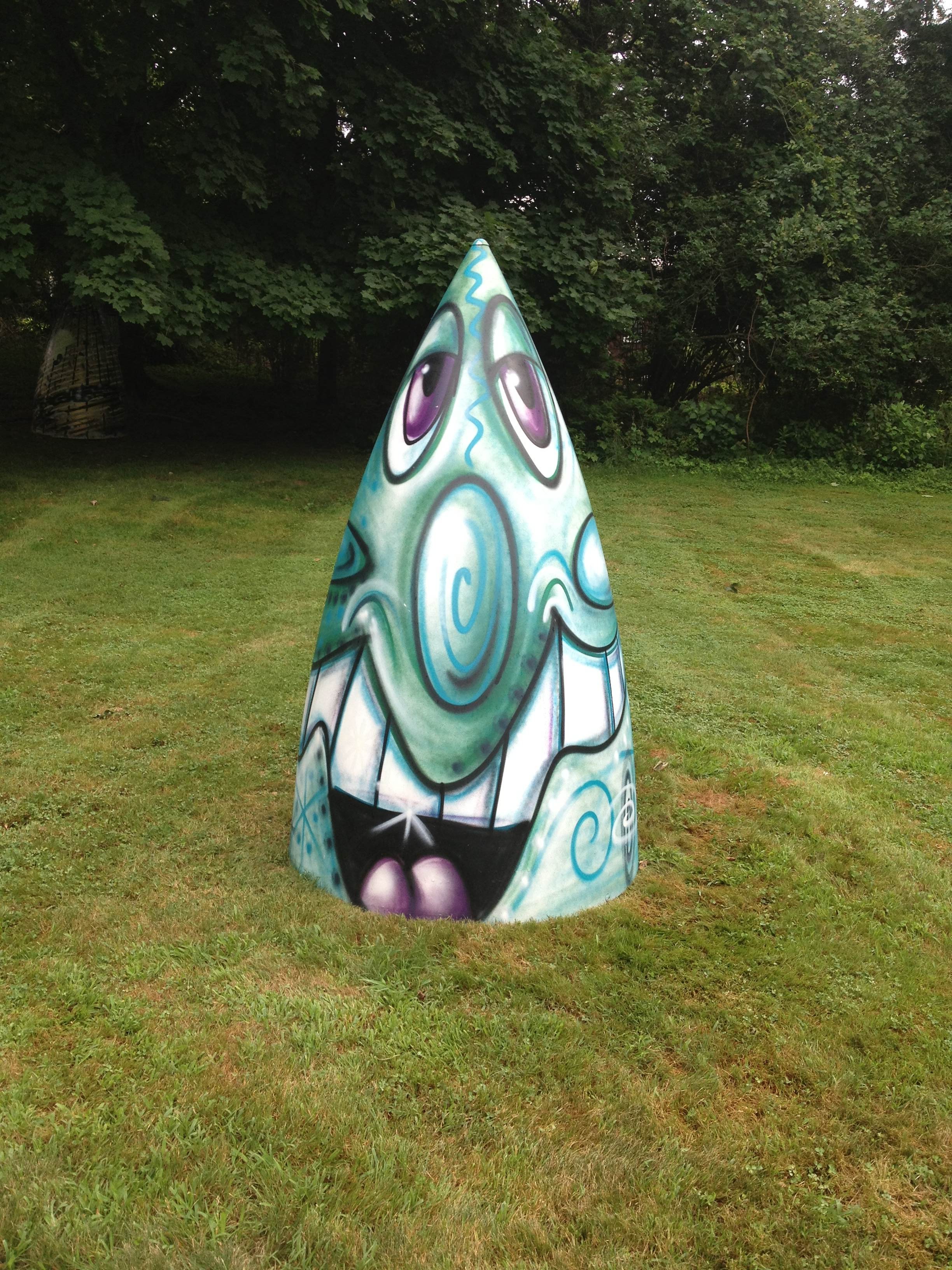 Kenny Scharf: I wouldn't say nostalgic. I believe I'm a surrealist. I even coined the term Pop Surrealism in 1981. I have a written document that shows I named it that. What it means is that I'm just a surrealist artists, but it so happens that my subconscious and unconscious where surrealism comes from is full of pop imagery. My dreams and my unconscious turn out, say, images of Wilma Flinstone and it's not because I'm taking her from outside of me, but because I'm taking her from inside of me. That's how Pop Surrealism works and came as a term. I'm a surreal artist but the time I live in with media overload yields this. I guess I was the first generation of television children. I had all this media barraged at me. Before this it was radio, billboards and magazines, but when TV came it just added a lot more to be thrown at you from an early age and that is what I represent and what I came from.
You've painted many donuts, but what about the cronut?
Kenny Scharf: I actually haven't tried one yet, but I don't think I will paint it. The donut is so interesting looking to me, but the cronut isn't. The donut is visually exciting in a way the cronut can't compare to.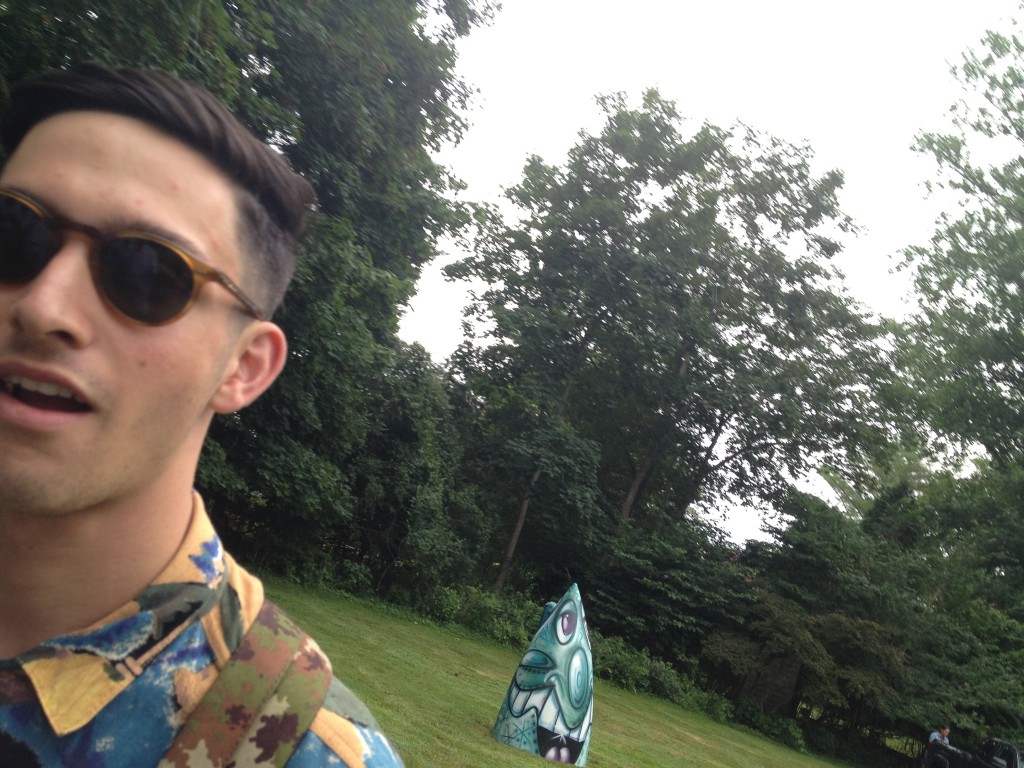 Interview by @ZachSokol
Images 1, 2, 6-9 by @AntwanDuncan
Images 3-5 provided by Eric Firestone Gallery