(Concrete Boots AW13 from Black Black Gold)
There is this horrendous cliché that every woman is either a "shoe girl" or a "bag girl"– meaning that we can simply bifurcate the entire female population into either being obsessed with shoes or handbags. The saying is obviously outmoded and irrelevant because there are, of course, many women who don't really give a shit one way or another what they carry their lip balm and tampons around in (nor about what separates their feet from pavement).
However, this cliché is also inadequate for capturing more narrowly defined interest, like, say, my interest (ok, "micro-obsession") with what one might call 'conceptual footwear'. As pretentious and douchey as that term doubtlessly sounds, what I'm attempting to convey with the 'conceptual' bit is that often what draws me to a shoe has absolutely nothing to do with its ability to function as a shoe or necessarily even compliment a person's body or an outfit. It's all about the "shoe-in-itself" if you want to get Kantian about it. From season to season I find myself lusting over shoes primarily on the basis of their form and material, as you will see below. Let's get started!
So, for example, last year I became totally smitten with shoes made from wood, and especially really fake looking wood, like the crappy wood paneling that features in several of David Lynch films, contributing to their surrealist, otherworld vibe. One of my ALL TIME favorite designers Proenza Schouler 100% nailed it with these slingback wedges.
These Proenza Schouler Slingback Wedges are more or less 'Twin Peaks' in shoe form. 
Only problem is a pair of log lady-approved wedges will set you back a whopping $1,385 . :*-(
I ended up finding some other wooden sculptural shoes that were more within my price range when bStore on London's famous Saville Row had a sale on these Patty 1 Wooden Platform Sandals from Opening Ceremony. I still long for the fake wood effect look, but the pair I've ended up with are actually more interesting and *exceptionally* well made. And all for the much more reasonable price of $176 (original price: $585).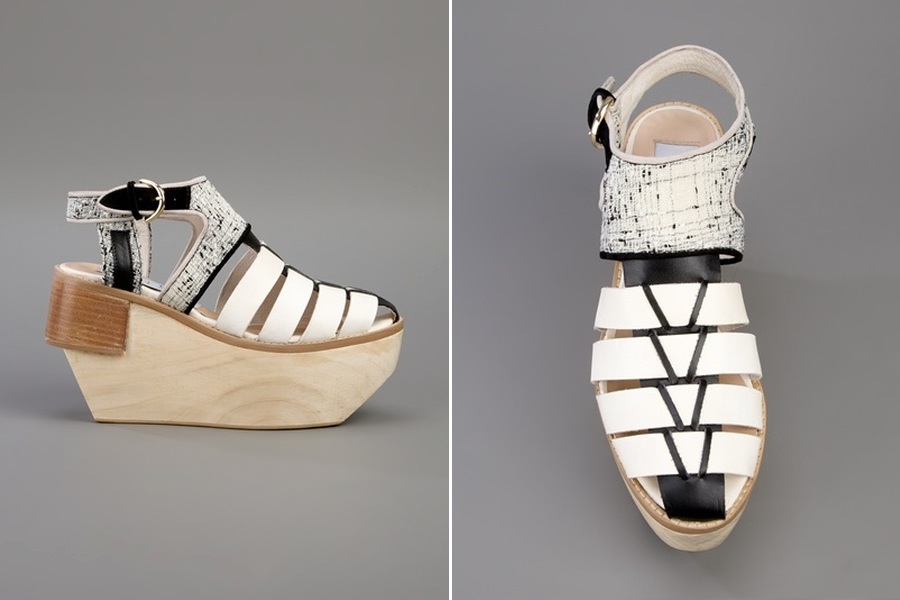 Patty 1 Platform by bStore x Opening Ceremony. Retail price: $585 Sale: $176
**Tip: It's always worth trying on a pair of shoes outside of your price range because many department stores sell premium shoes with more than $1,000 knocked off the retail price during end of season sales online. So what was totally inaccessible can occasionally become vaguely feasible. The problem is getting your size, but if you've already tried them on, then you know if you have some flexibility, if they run small or large, etc. then you can bypass everyone blindly diving into the sales and go straight to ordering them online ASAP.**
Sporting my Patty 1 Platforms by bStore x Opening Ceremony at London Fashion Week AW 2012. (Photo courtesy of Elle UK.)
Even though I am based in London, I was visiting family in the USA when the sale started, so I had to have them shipped to my hometown of Zionsville, IN from bStore London in order to take advantage of the sale. I'm pretty sure that was the first time they ever sent something there. Sounds extravagant, but so worth it. I think I enjoy seeing them every day atop my cabinet like a pair of matching sculptures more than I enjoy wearing them. They are now totally sold out, however if you want to get involved there is another model with the same heel, but with a brogue top that is still available via Opening Ceremony, and is an "Editor's pick" currently on sale!
More recently I have  been preoccupied with finding footwear that somehow incorporates that clear, plastic substance known as perspex (although in some cases the clear plastic in question is technically PVC, for the sake of clarity I will refer to it as 'perspex').
Perspex seems to be in that awkward in between stage where basically all of the high fashion designers have figured it out (or at least copied the idea from someone else) over the last few seasons, but– at least from what I've seen– the more mainstream commercial retailers like, Topshop and H&M, have yet to figure out how they are going to translate this trend for the masses. This is annoying because obviously most of us can't afford to go straight to Simone Rocha (arguably the holy grail of perspex footwear).
Maebird Multi pastel perspex brogues by Rachel Antonoff x Bass, $129. (Image via Stylebubble)
High Perspex Brogues by Simone Rocha, $1,075. Available via Opening Ceremony.  
The challenge here is to find a shoe that still looks nice despite the fact it is essentially made out of the same crap they made those cheap jelly sandals out of in the early 90′s that gave all of us horrendous blisters when we were kids. I should note that jelly sandals are themselves making a comeback though, thanks to their popularity with celebrities like Azealia Banks. I think this look is hard to pull off without looking a little Lolita-esque, but it certainly can be done with some careful styling.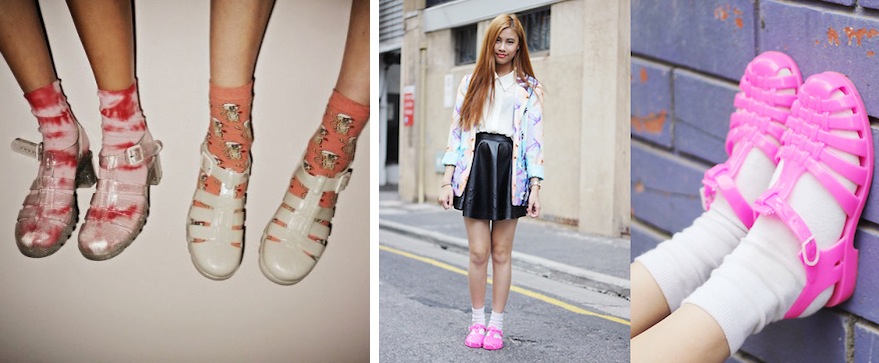 Wear jellies with socks, it looks better and also means you won't get heinous blisters. 
After a long search, I FINALLY found a pair of stunning perspex/white leather lace-up Oxfords at a new shop in central London called & Other Stories. & Other Stories is owned by the same people than own H&M, but it is a bit higher quality, more along the lines of COS. Price was reasonable at £79 ($120). They have unfortunately sold out now, but you can be sure that similar alternatives will be cropping up soon.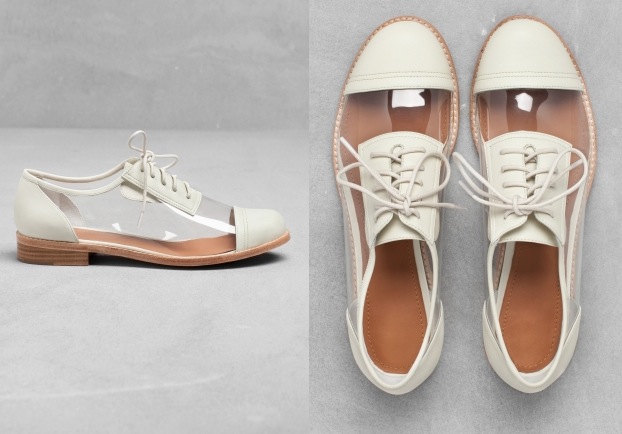 Abigail Lorick Oxfords from & Other Stories, £79 ($120)
For some reason I've been really drawn to virtual representations of water lately. I'm not sure why exactly, but the zeitgeist tells me I'm not alone. The above image (sans my text) is actually the cover image of the underground music project Contact Lens (who I am excited to announce I will be interviewing for ITYS this week!).
Brooklyn-based artist Joshua Citarella also posted an image just last week of this truly astounding sculpture entitled "Form Assumes the Container" (2013) made of LCD panels, Acrylic, and Anodized Aluminum.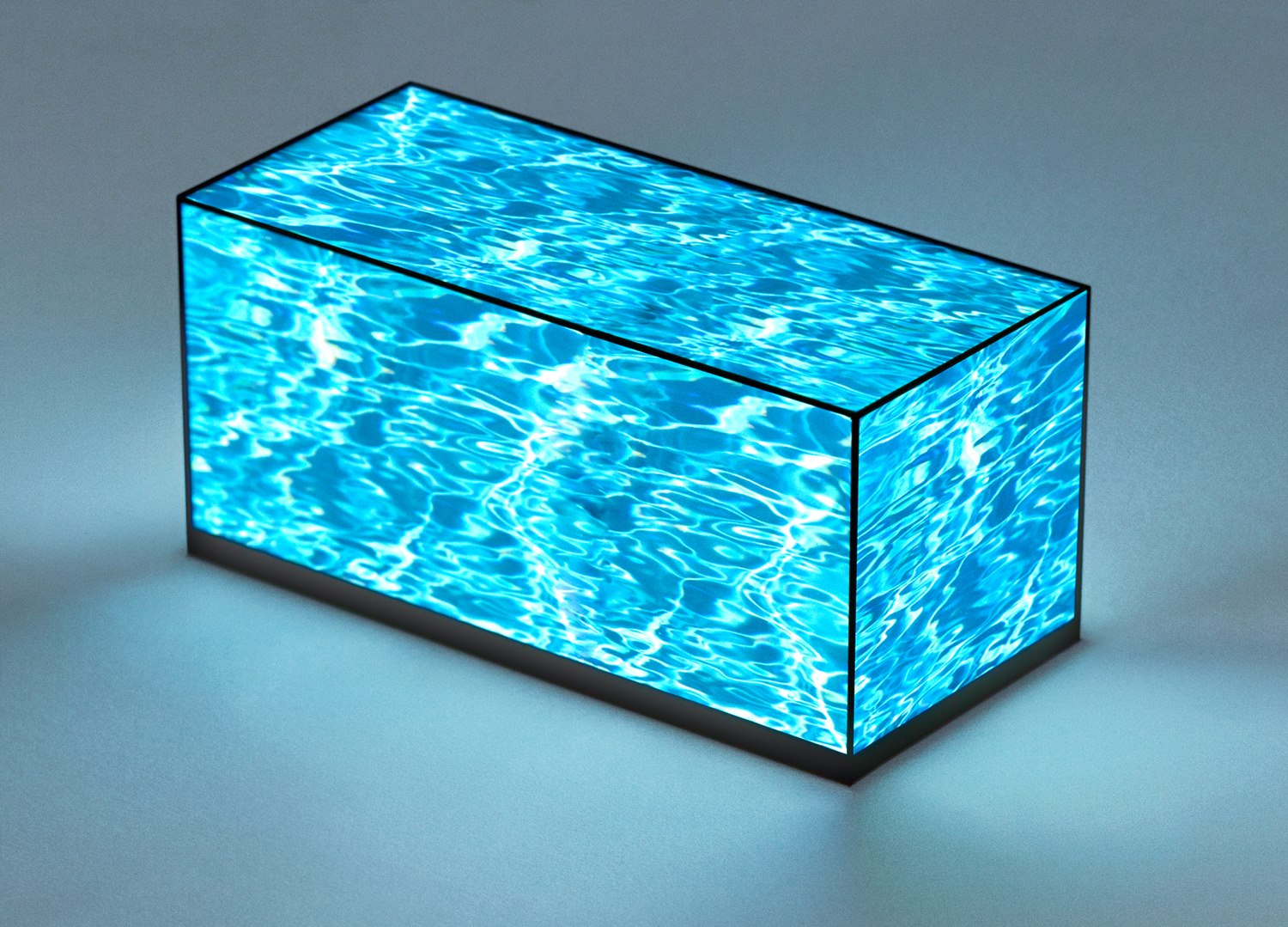 Form Assumes the Container by Joshua Citarella
2013. LCD Panels, Acrylic, Anodized Aluminum.
3 x 3 x 7.5″
Now check out these flatforms, which like the perspex brogues from above, are also from the new "high concept" store &Other Stories.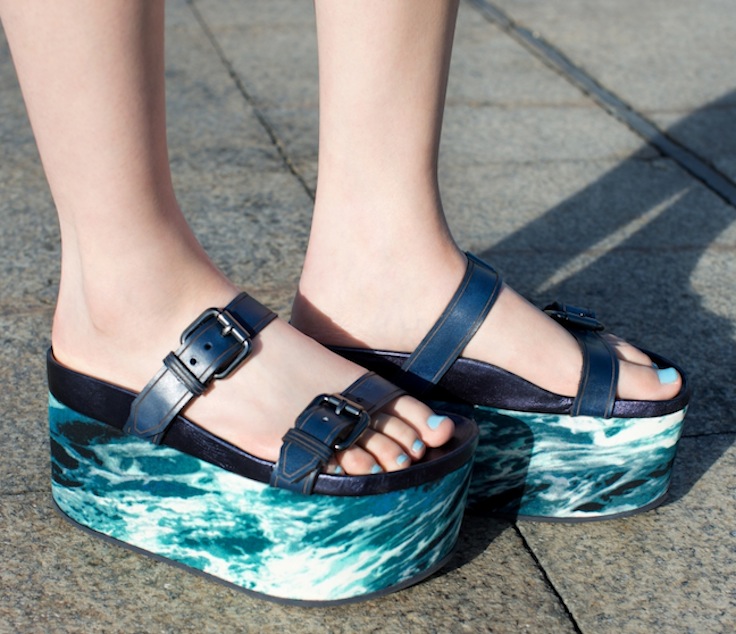 Special thanks to my dear friend, Finnish photographer HELEN KORPAK, for introducing me to &Other Stories.