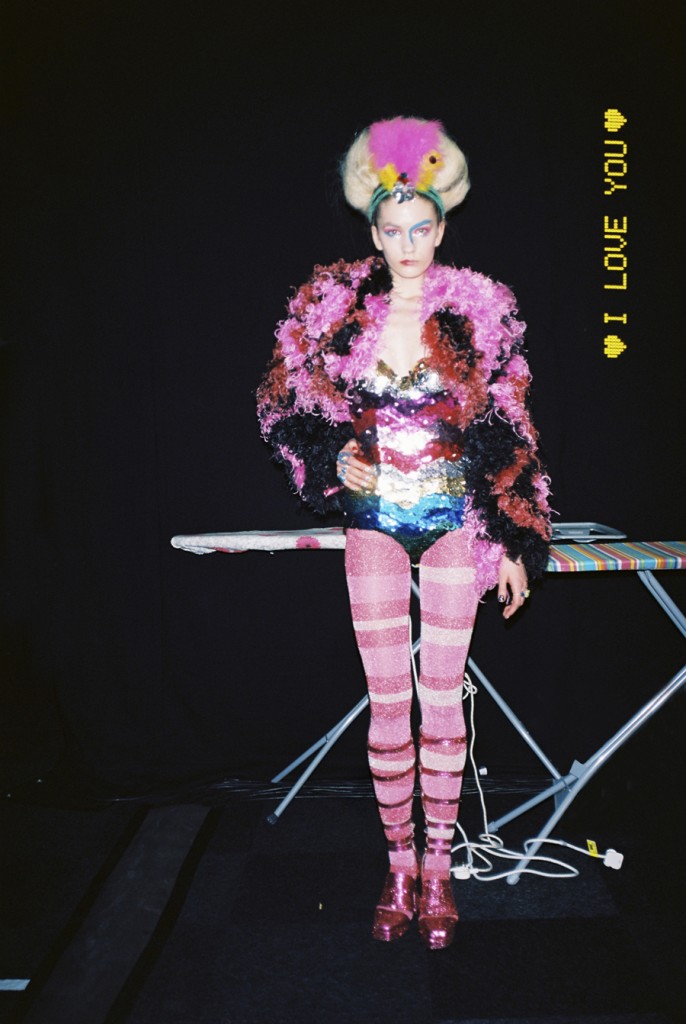 WORDS & FILM INTERVIEW by STEPHANIE MALIK
IMAGES & FILM by HARLEY WEIR
As part of a behind-the-scenes film for i-D Magazine, I interviewed Edward Meadham and Ben Kirchhoff, head designers of Meadham Kirchhoff, backstage at their larger-than-life runway show at London Fashion Week. In the unexpectedly insightful, and endlessly quotable, interview Barbie is considered a "weird cultural icon" on a par with "Coca-cola", "God", and "McDonalds", while monsters are named alongside 70′s nightlife as a source of inspiration. Most surprising, however, was when it was revealed that this collection is in many ways a celebration of ideas that the reclusive designers themselves find utterly alienating. In the ultimate example of irony, we find that the creative minds behind this glitzy collection inspired by fun, extroversion, and nightlife are actually self-proclaimed loners, and, to be honest, pretty awkward (albeit endearingly so).

Unfortunately, due to various technical difficulties, the sound quality for the film was less than desirable, resulting in a final edit where ABBA's "Dancing Queen" drowns out large sections of the interview. This was truly a shame as I think the majority of press coverage that Meadham Kirchhoff's remarkable show has been receiving fails to penetrate its sparkly veneer. By electing to exclusively focusing on the sheer glamour of it all, the press seems to have to some extent obscured Meadham Kirchhoff's artistic vision, or at least, to have only told half of the story. (Although, to be fair, all of that glitter was pretty distracting….)
Thus, in an attempt to rectify this situation, I've chosen to publish the write up, along with a transcript of my interview, here as an exclusive on I Think You're Swell. You can also watch Harley & I's film for i-D Magazine below, as well as see several of Harley's amazing photos from backstage. Enjoy!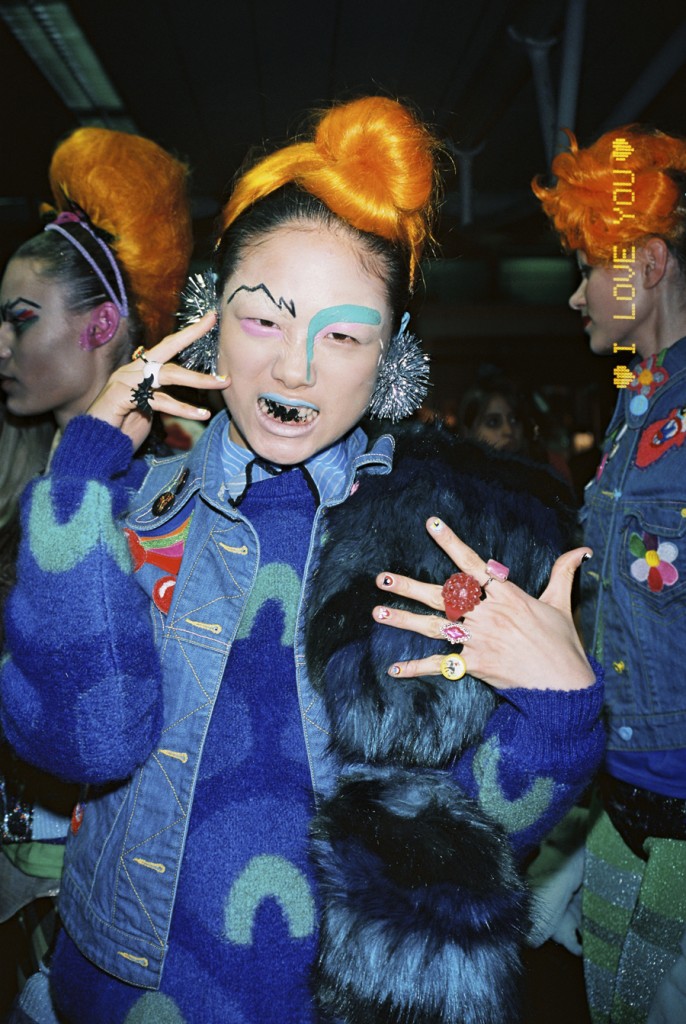 ******************************************************************************
EXCLUSIVE BACKSTAGE INTERVIEW WITH MEADHAM KIRCHHOFF A/W 2012
The atmosphere was intense backstage in the final moments leading up to the spectacular debut of Meadham Kirchhoff's A/W 2012 collection. With glitter strewn all over the floor, teeth being painted, and models dressed in everything from tinsel trousers to monster-faced coats, backstage was truly a spectacle in itself. Amidst all of the chaos it was no wonder that after the plan for prosthetic caps had to be abandoned at the last minute, Edward asked if anyone had any ibuprofen (it was decided that the prosthetics could not survive the scrutiny of the HD cameras).
Suddenly Ben, whom had up until that point had been largely quiet whilst pensively observing the goings-on, jumped up to deliver an impassioned speech to the models just before their final run through.
"It's not a freak show. You look the way you do because you are beautiful, not because you are trying to be impressive freaks. It's not about the audience thinking that you're something that you're not. It's about you, and what we're trying to make come through is your personality and your individuality."
Profound words, ones which I think suffice to show that despite the fact that this collection is conceptually centered on the ideas of fun, glamour and nightlife, it would be a mistake to think Meadham Kirchhoff are anything less than sincere about their work.
In conversation Meadham Kirchhoff come across more like artists than stereotypical fashion designers, consistently speaking of their show as though it were purely a platform for expression, rather than a platform for advertising. Speaking to them about their show instinctively felt like a discussion of something closer to an art exhibition than an industry event. Meadham Kirchhoff do not simply stage theatrical shows, they curate an experience.
Even when discussing their collection, it is clear that their artistic vision is privileged over meeting any industry expectations. "We're not going to churn something out for the sake of it", Ben commented, adding "it puts you through pains and stress and whatever else, but it has to be right."
This sort of attitude on the part of contemporary fashion designers is as refreshing as it is rare. If there is anything the majority of shows at London Fashion Week this season made clear, it is that what has come with the economic downturn is that most designers (or at least those given shows at LFW) will ultimately cater to the best-paying customers– who at this point happen to be largely from the Middle East and China–and, moreover, will do so at whatever aesthetic sacrifice. (This discussion, however, warrants another article in itself, which I plan to write soon.)
In this fascinating interview, Meadham Kirchhoff reveal that their striking collection was not merely an exercise in extremes, nor an attempt to please the fashion industry, rather the collection was in many ways a testament to everything the designers take themselves not to be.
–Stephanie Malik
******************************************************************************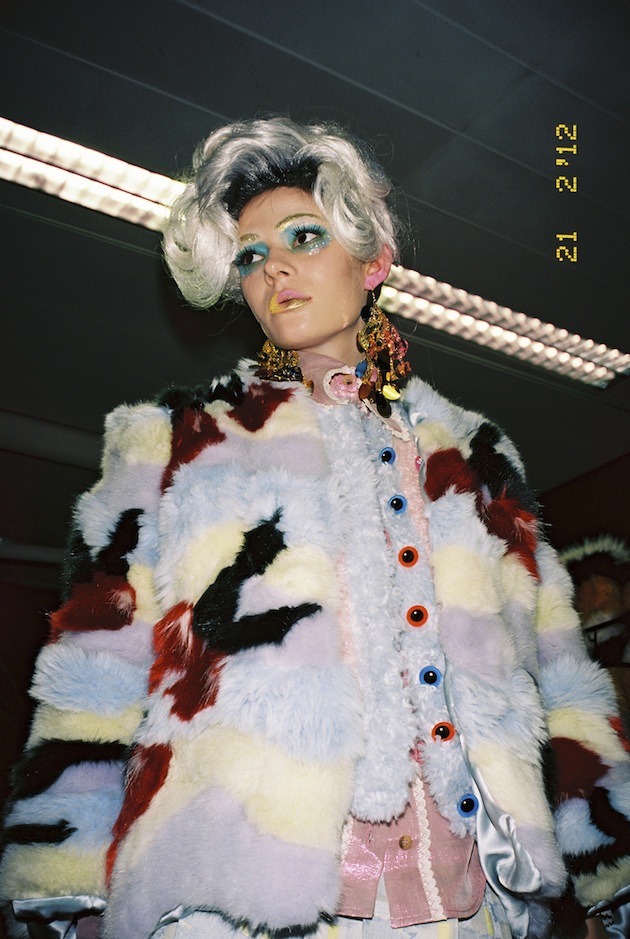 ******************************************************************************
INTERVIEW

SM: So is your creative process more a result of looking at references or is it more a result of isolating yourself from trends?
Edward: "Both."
Ben: "Yeah both."
Edward: "I totally look at references."
Ben: "We do not look at fashion at all."
Edward: "I do not look at fashion, but I do look at references and I do isolate myself, and I think it comes from both."
SM: For this season in particular were there any highlighted references for you?
Edward: "Trojan, Leigh Bowery, the Coquettes."
Ben: "Roxy Music."
Edward: "Monsters."
Ben: "Nightlife."
Edward: "The 70's generally, glam, the idea of fun, the idea of nightlife…the idea of all of these things that I've never experienced really."
SM: So it is supposed to be fun and humorous, but at the same time…
Edward: "Provocative. It's supposed to be fun. I've kind of realized that my only way of being fun or charming or anything other than silent and alone–the only way I communicate that—is through the shows."
SM: So do you view the shows as a chance to let everything out, like a cathartic experience and otherwise view yourselves as quite quiet?
Ben: "We're not lonely, but we are loners."
Edward: "Solitary."
Ben: "Yes, solitary is a better word. I have a close knit group of friends that I like to see and I never really extend it very far, so the idea of being in a room full of people having fun, I don't really know how to take part in, it's very alien to me."
Edward: "I just said to everyone else, the last five collections have been about everything that I am, and this collection was about everything that I am not."
SM: What was the significance of the Barbie pins?
Edward: "Barbie had to be there somehow, she's important."
SM: Why is Barbie important?
Edward: "Why is Barbie important? Well in the way that any other weird cultural icon is, like Coca-cola or God or Madonna, McDonalds…it's the same thing, no?"
******************************************************************************