words by STEPHANIE MALIK
So I moved into a new place in London around mid-October… and for some reason we STILL don't have the internet.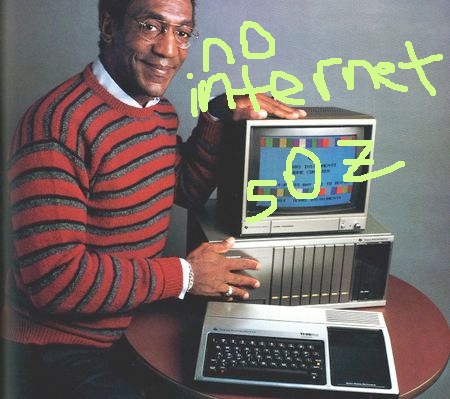 How could this happen? Well, after a rough initial withdrawal period, we all agreed (all 7 of us!) that it was actually nice not having the internet at home. Our warehouse flat became a sort of oasis away from the typical barrage of constant facebook updates and the addictive frivolity of youtube videos. We found ourselves being much more sociable than we'd otherwise probably be. All of us being creatively-inclined people, we'd often work on projects together. We'd share stories about our friends' marveling at our not being familiar with the most recent viral videos or other pop culture phenomena (mind you, I didn't even have so much as a smart phone during this time).
I found it especially amusing over christmas when I had a few friends staying over for a few days, and everyone was getting really edgy after a day or so of not having internet access. I even recall my friend Simon likening not having the internet to not having "hot water" (which to some extent, I must admit, is sorta true). However, by the end of their visit, all admitted that they were sorta starting to enjoy their life sans internet (well, maybe not Simon…).
Not being able to stream films, I, personally, found myself traveling to dark places with my housemate's Twin Peaks box set (that's deserving of another blog entry in itself…).
In any case, the honeymoon is basically over now. Not due to a renewed desire to waste hours on Wikipedia, but rather, what has resurfaced are a number of practical obstacles that arise out of not having the internet. (I, for example, run an antiquarian book business on ebay, so it's a tremendous inconvenience to have to always run to the hybrid cafe-salon-shop-playground-beach(?) across the street any time I need to check my listings etc.)
Another thing I've missed tremendously is discovering new music. So now we reach the main point of this entry, which is to share 3 tracks that have gotten me all excited since I've rediscovered the internet (in no particular order).
1. Grimes- 'OBLIVION'
In a playlist from a few months ago, I professed my love for Grimes, a.k.a. Montreal-based artist Claire Boucher (and hinted that I may soon be writing a book on her, which is still in the works). Recently signed to 4AD, her forthcoming album Visions, on which this track features, is due out in February. Needless to say anticipation is physically painful.
2. Nicolas Jaar – 'PROBLEM WITH THE SUN'
This track has actually been around for awhile, as it was on Nicolas Jaar's critically acclaimed 2011 album Space is Only Noise. How I totally missed this one, with all it's Knife-like steel drum goodness, is beyond me, but since hearing it at just the right time (which, as it happens, was at 8 a.m. during a party that was still going over the weekend) I haven't been able to stop listening to it. Nice lyrics too: There must be a problem/with the sun/because my eyes can't see/why you don't like me.
3. Kindness – 'SEOD'
Heard this puppy through my friend Dev's incredible daily mini-playlists he posts on his Blood Orange facebook wall, (which I highly recommend if you're a fan of doing little work to discover amazing songs both old and new). 'SEOD' is also a taste of a forthcoming album due out soon (March 19th) on Terrible Records (the same label that brought you CANT, Blood Orange, and Twin Shadow), but the 'SEOD' is due out as a 12″ single sometime this month. Very Arthur Russell-esque, but somehow more mysterious and more disco (but not in that lame italo-disco revivalist way). Jump ahead to 2:00 minutes in if you're impatient. Repeated listens reap rewards.
<3
Stephanie