I had to use the photo above as the opener to this post, I mean, look at that tee — "MOIST FIST". THEY LOOKED TOO COOL FOR SCHOOL!
I am absolutely worn out. Typing this right now is killing me, srsly, but I'm gonna do it. I saw sooooo many bands today and walked around soooo much in most definitely the largest dust storms I have ever seen. I am currently covered from head to toe in filth.

Srsly, I'm filthy.
Anyway, the music was all pretty spectacular. I saw Active Child first and it was phenomenal, the dude is so talented and has a truly incredible voice and ear for music. I pretty much just shot some quick photos and then sang along to everything the whole time. I love this dudes music, damn, I've been listening to it on repeat on my iPad recently. SO perfect.
Oh you know, doing science and casting magic spells.
He, Pat Grossi, just has a pretty cool aesthetic in general and he's a red head…something my red-headed friend Ian Hubbard thinks is super cool. Lol. I mean, I guess it is kinda cool.
Really feeling the music.
After seeing Active Child we of course went to the backstage area and scored some snacks and shit — sandwiches, chips and salsa, the works.
We also watched some of this weird wrestling shit — I have no idea what was going on, but the shit ppl were yelling out during it was pretty hilarious.
This guy.
The Joy Formidable — geez, they blew my mind. I had never heard them before, but I had heard their name a lot over the last few years and now finally getting to see them live; I know what all the fuss was about. They are great! The singer, she's so energetic and little and cute and her voice is so rad. I love the energy this band has.
The Joy Formidable.
Some dude on the Joy Formidable stage making a sandwich, lol.
Earlier in the day Ian, Brandy, Angela and I had decided that we were in a band and we were called "Colored Glass" — so many ppl kept approaching us and asking us what band we were in and if we knew what section we were performing in…pretty funny. Anyway, here's our first photo together…
This is Angela, ppl love her hair and always want to take pictures with it. Lol, it happened at least 3 times today. Lol, I'm not sure if it's funny or sad. Ppl are silly, they ask me shit like that all the time too, nice to know tat other folks go thru it. Ha.
Ran into The Thermals backstage — they were nice.
And yes thats Ian photo-bombing in the background of their photo…
Here's a girl that works at VICE that looked pretty cute; that tee is off the chain.
Here's Ian peeing in the women's port-a-potty — don't even get me started on those damn port-a-potty's.
Ra Ra Riot killed it as usual!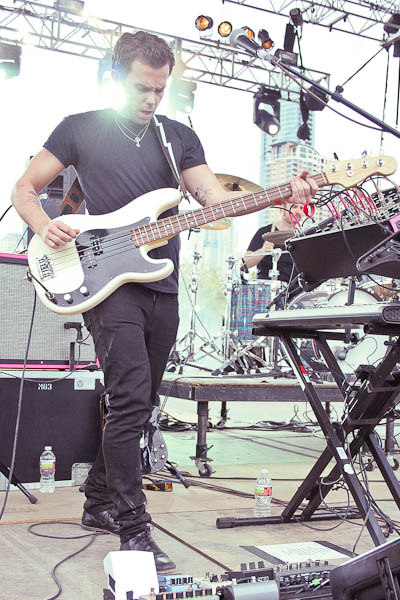 M83 — good shot huh? Thanks!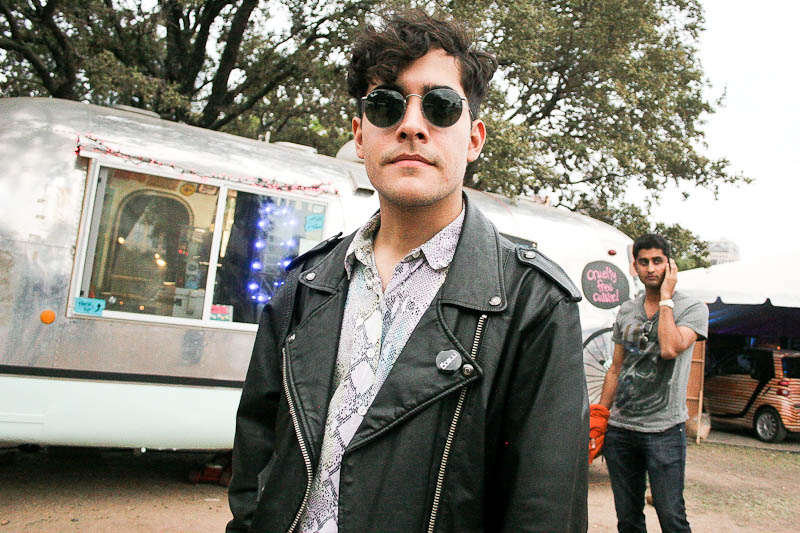 Ran into Alan Palomo (Neon Indian) backstage — I see the guy everywhere so at this point it's like we're actually catching up every time we see one another. Such a rad guy with a great voice. I am still addicted to that song 'Polish Girls' — I wonder if they are gonna do a video for it…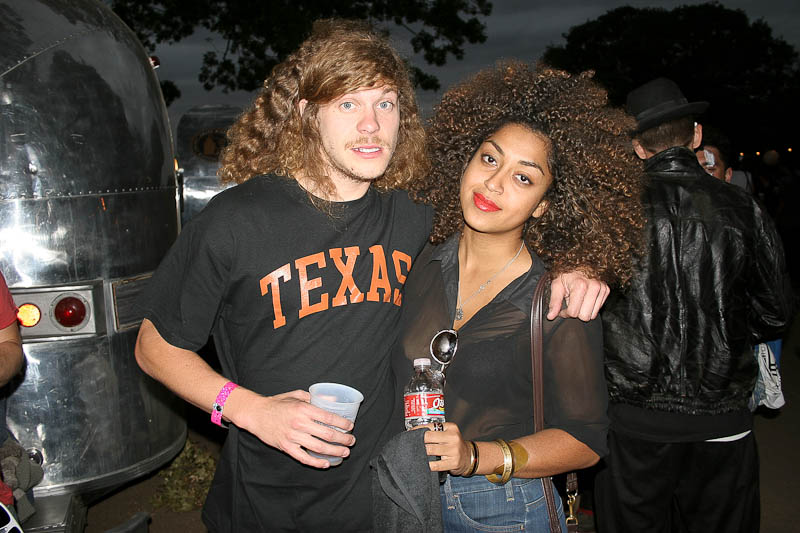 Saw that dude Blake Anderson from that tv show called 'Workaholics' so we made him pose with Angela — I mean come on they have the same hair!
The last band I shot any images of was "Girls" — and all I can say is "MAGICAL". Such an amazing performance and such great back up dance and stage decor — gosh they went all the fucking way! haha. Loved everything bout the show. They way they dressed and interacted with one another, so rad. A rad ass motley crue. I like it.
After that we high tailed it over to see Lykke Li but of course there was a line and shit. We finally got up there, saw a few songs and then decided it was time to go. We were both exhausted…but that didn't stop us from grabbing maybe like a million "KIND" bars — when I say we have like a million, I'm serious. LOL.
Peace out nerds,
antwan