It's always nice to run into people that you actually like at festivals and shit — it's why I was so stoked to run into Naeem, I mean, Spank Rock during Day one of Fun Fun Fun Fest. Naeem has always been a nice dude and is also pretty fuckin' funny. Above is a photo of him performing later in the day, but before that we were talking about where he should get his Sailor Jerry tattoo placed. I saw that he ended up getting the slightly raunchier one, nice. Haha. Oh, and this was also one of the first times that I got to see Johnny Nelson play for such a large crowd, it was dope.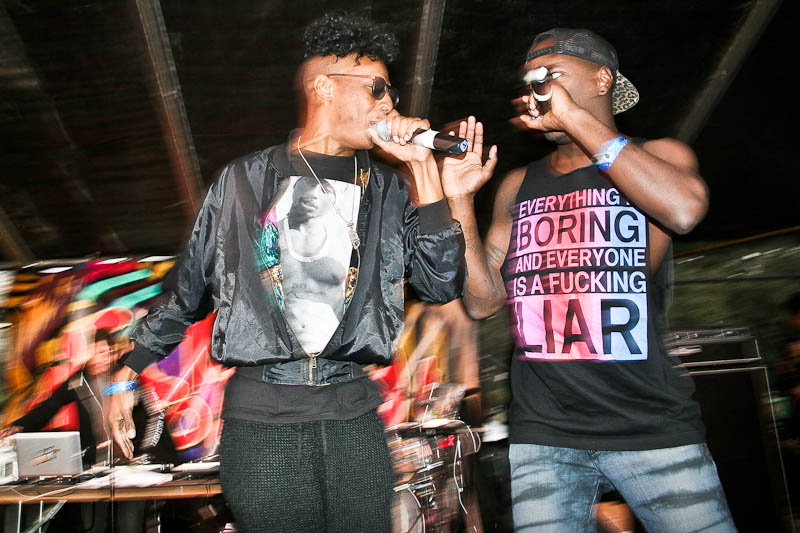 Ian and I saw a lot of bands and ate tons of free snacks and stuff — a good ass day. I had BBQ ribs, Ian had a nice veggie sandwich.. twas nice. We smoked a j*int and shared it with a *staff* member of the festival and went about our way. Check out the rest of the images and be on the look out for the 35mm updates from the festival.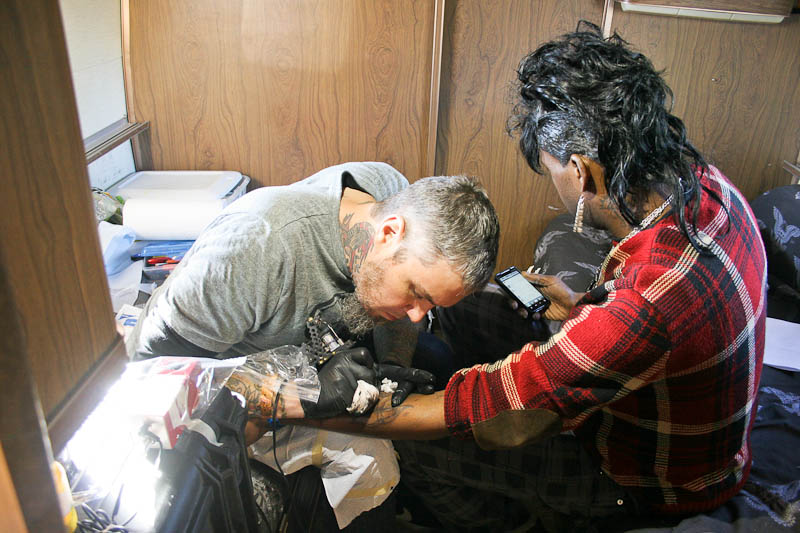 Big Freedia getting one of those free tattoos courtesy of Sailor Jerry!

Big Freedia on stage with her dancers. Gosh I love that she has such hood dancers. SO cool. Haha. i wish I had time to tell you guys about the convo I heard the dancers having after the show, lol, so funny.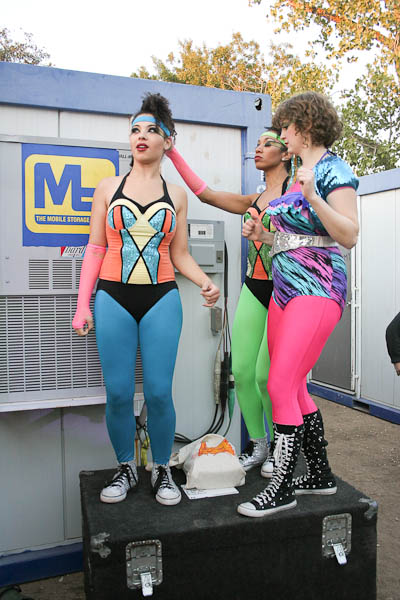 Some chicks in crazy uniforms acting like crazies.

Passion Pit's Michael Angelakos in deep thought after singing the lyrics that all the people want. lol. really fun stage performance, foreal! While I was in the photo pit he swooped down toward me — I thought he was gonna jump on me, lol, I freaked and ducked down low — ol' dude laughed at me, haha!
Here's Michael Angelakos swinging his mic. I haven't seen mic swinging like this since Taking Back Sunday was a threat on the music scene. Love that kinda stuff!
Oh yeah I almost forgot, a few times while hanging out backstage like the bosses that Ian and I have come to be we kept seeing Ryan Gosling running around in sunglasses — we don't know what exactly was going on, but he was everywhere. Funny when the security and stage guards had no idea who he was and wouldn't let him do anything.
We tried to see Public Enemy but they were only allowing their own photographers shoot em — whatever. and apparently Danzig was doing the same — again, whatever. lol.
Rad day. Active Child tomorrow. It's all I care about, seriously.
lovin' Texas, but missin' NYC,
antwan
[special thanks to Dana, I appreciate everything]