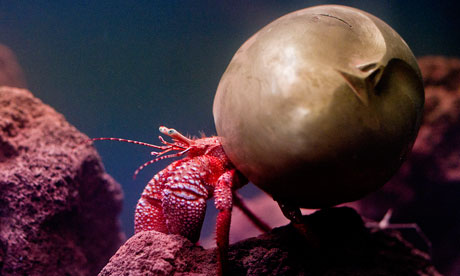 Today marked the opening of the annual Frieze Art Fair in London's Regent's Park and no doubt the highlight of the day was not the pseudo-DuChampian superyacht by Christian Jankowski (which can be purchased as either a seafaring vessel for €500,000 or as a "work of art" for €625,000) . No, the star of the day for me was tucked away in the very back of the exhibition hall, behind a fairly discrete white curtain, in a dark room with an aquarium at its center. This poor little guy was somehow suckered into taking on a bronze cast of Brâncuşi's "Sleeping Muse" sculpture from 1910 as his new home in an aquarium by Pierre Huyghe.
I think a lot of the dynamics of the work are lost by capturing it only with photos as the sculpture is clearly impractically heavy for this crab, who was nonetheless persistently active all day…that is, until running into a tight spot around the time I was taking this video below.
Check out the "definitive installation shot":
I'll report back to you if he has made it out of there by tomorrow morning.
–Stephanie Malik