As many of you know, this past Wednesday marked the end of London Fashion Week. I was lucky enough to score an international press pass purely based on my previous work covering New York fashion week for New York-based magazine Scallywag & Vagabond (in other words, by coming up in the results when the registration desk searched for my name). #thanksgoogle
After taking a few days to recover from its many excesses (too much free coffee, champagne, and red bull, errrgh) and some time to process everything I've experienced, I think I'm finally in a position to begin sharing it with you all.
But rather than dive in with my more hardcore fashion journalism, here I've initially provided a set of essentially arbitrary images from the limited set I have on one camera (all of my images are spread across three different cameras and I have yet to edit them all).
This set showcases the main site of LFW at Somerset House and also I think reflects the more extremist side of those in attendance. Although, to be honest, my general impression was that LFW is just as a whole much edgier than NYFW. There were many more people taking risks etc. However it is also true that as it happens this season is all about leather, bondage, latex, leather, S&M, leather and leather, so perhaps comparing the S/S 2011 crowd in NYC to the S/S 2012 crowd in London isn't entirely fair. At times this week it seriously felt like I might have been walking around some sort of weird leather fetishist convention.
Gotta love tweety, obvs.
I also thought I'd share a few thoughts on my overall experience. Let's start with something semi-provocative: this was my first London Fashion Week and wow, hate to say it, but it gave me yet another reason to prefer London to New York. (Gasp!)
The main substantive reason (i.e. setting aside the amazing press perks like the British Fashion Council press lounge) is that London Fashion Week acts more as a creative/cultural hub for fashion than as a purely promotional platform for designers and sponsors.
For example, there was a lot direct interaction between fashion and the art/film world. This season the BFC added a cinema to the main catwalk show space, with a fascinating cinema program and different film screenings every day. The screening I attended even included a Q&A session with the directors answering challenging questions about the dividing lines between fashion, film, and art (more details soon, I will be writing an article on this for S&V).
Many artists and up-and-coming designers from fields outside of fashion were also in attendance, including Pandemonia, aptly described by the Stylist as a slender 7ft tall latex-clad lovechild of Jeff Koons and Roy Lichtenstein, self-described as a "post-pop conceptual artist" (pictured below on the catwalk after gracing the front row of the KTZ show).
Also Bethan Wood, a brilliant furniture/lighting designer known as Wood London, whom I had the pleasure of sitting next to at the KTZ show. Her work has been featured in Elle Decor, B Store Magazine, Wallpaper*, Nylon, and V Magazine. I plan on devoting an entire forthcoming entry to her work.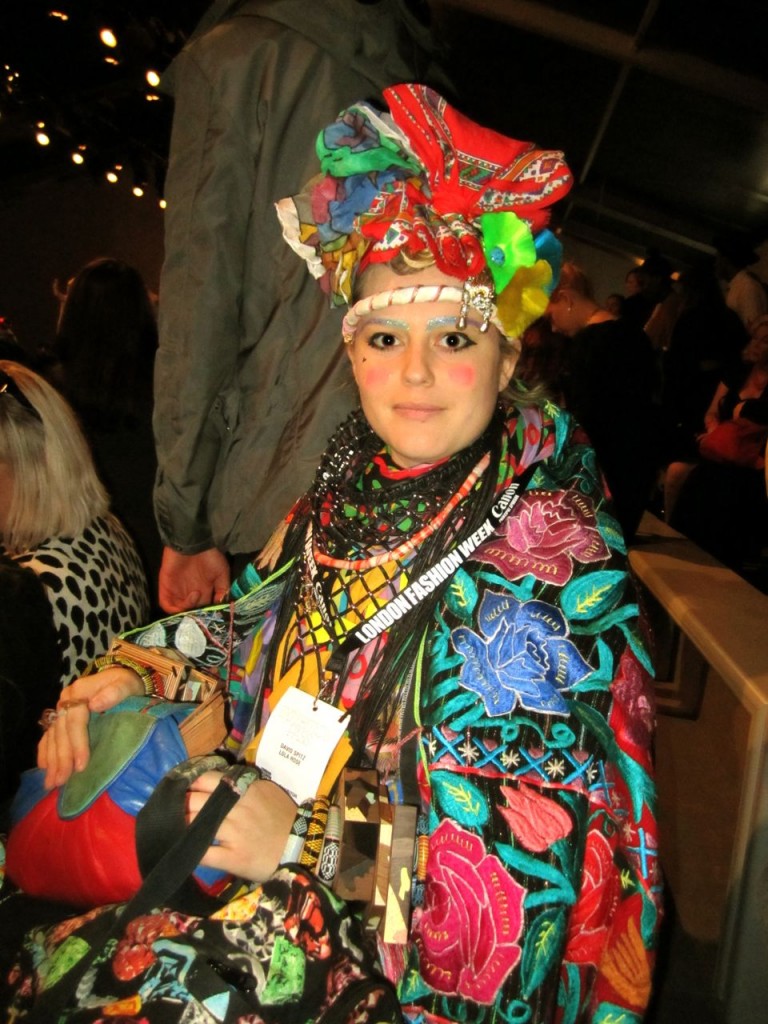 Others besides Pandemonia also chose to attend in head-to-toe latex.

More to come!!!!!!!
<3
SM